Key Features
Key Specifications
Body Materials: Polycarbonate
Operating Environment: 0 – 40 °C, 85% or less humidity
Dimensions (W x H x D): 3 x 88.1 x 58.7mm
Weight (body only): Approx 387g (black), 390g (white), CIPA testing standard including battery and memory card
Box Contents
CANON E0S M50 LENS
Full Description
Canon M50 Lens (15-45STM) are good and useful for stills or movies. It enables capturing of a wide range of things. These range from dramatic landscapes and beautiful portraits to fast-paced action. All of this will be attained by the small, versatile, and easy-to-carry 15-45mm zoom lens. They are also a perfect companion for EOS M users.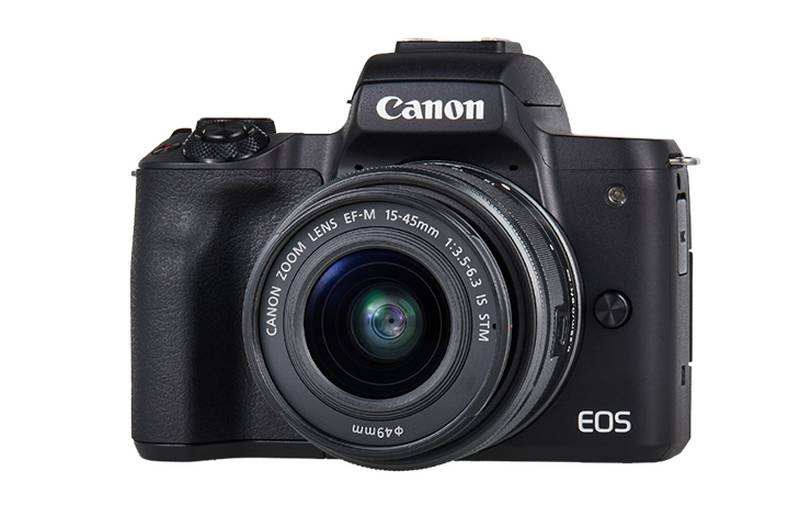 CANON M50 LENS Design
Canon M50 lens is easy to carry thanks to its light, collapsible and stylish design. It is easy to carry wherever you are traveling to. It also uses 3 aspheric lens elements that ensure there is high image quality despite its compact design. Moreover. The small collapsible body weighs 130grams and is only 44.5m long. It further has a stylish aluminum exterior for matching your EOS M.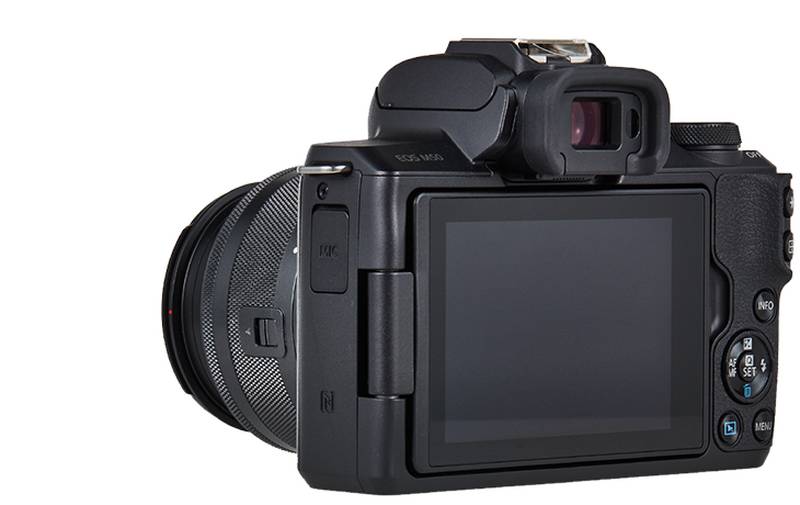 Versatile Shooting
This lens is a high-quality zoom lens with a 15-45mm focal range. Additionally, they have a 7 blade circular aperture and are great for a wide range of creative shooting. You will easily capture everything you need ranging from dramatic landscapes to beautiful portraits that have a smooth background blurring. You will also manage to capture fast-paced action.
CANON M50 LENS Easy Recording
You will easily get to record smooth and steady moves with this lens. The Stepping motor technology (STM) will ensure that there is near-silent continuous focusing in movie mode. your movies will therefore be quiet and smooth.
Optical image stabilizer
Pin sharp images will be delivered with this feature that will make camera hakes to be a small deal. You will easily shoot pin-sharp photos whilst having no perceptible increase in a blur. This is even when shooting at full zoom or handheld in low light. All of this is enabled by the optical Image Stabilizer technology.
Fast AF
Spontaneous moments will be easily captured with fast AF. It easily captures moments in beautiful stills thanks to a fast and accurate high precision autofocus system. Additionally, it will allow you to take control with a full-time manual focus override that makes it possible to adjust focus at anytime you want.
CANON M50 LENS Features
Image Sensor
Type: 22.3 x 14.9mm CMOS
Effective Pixels: Approx. 24.1 megapixels
Total Pixels: Approx 25.8 megapixels
Aspect Ratio: 3:2
Low-Pass Filter: Built-in/Fixed
Sensor Cleaning: EOS integrated cleaning system
Colour Filter Type: Primary Colour
Lens
Lens Mount: EF-M (EF and EF-S lenses compatible via Mount adapter EF-EOS M)
Focal length: Equivalent to 1.6x the focal length of the lens
Image Stabilisation: Optical Image Stabilizer on compatible lens
Shutter
Type: Electronically controlled focal-place shutter
Speed: 30 - 1/4000 sec (1/3 stop increments), Bulb (Total shutter speed range. Available range varies by shooting mode)
Flash
Built-in Flash GN (ISO 100, meters): 5
in Flash Coverage: Maximum coverage at approx. 15mm (35mm equivalent: approx. 24mm)
Flash recycle time: Approx. 3 seconds 3
Modes: Auto (E-TTL II)
Red-Eye Reduction: Yes - with red-eye reduction lamp
X-sync: 1/200 sec
Interface
Computer: Hi-Speed USB (Micro USB)
Other: Wireless LAN (IEEE802.11b/g/n), (2.4 GHz only, 1-11 ch), with Dynamic NFC support 6
Bluetooth® (Specification version 4.1, Bluetooth low energy technology) 7 8
HDMI (Micro - Type-D connector), HDR output to compatible TV supported
Direct Print
Canon Printers: Canon Compact Photo Printers and PIXMA Printers supporting PictBridge
PictBridge: Canon Compact Photo Printers and PIXMA Printers supporting PictBridge