Bixolon SLP-DX220 203dpi 2 inch Serial USB Thermal Desktop Label Printer
Key Features
Standard: Serial + USB
· Optional: Ethernet + WLAN* + USB
User-friendly Design
· Easy paper loading with adjustable paper guide
· Pause and cancel function-keys
Powerful Compatibility
The SLP-DX220 is fully compatible with market-leading programming language; SLCS, BPL-Z™, BPL-E™.
Box Contents
Full Description
Overview
Premium yet compact, the SLP-DX220 2" direct thermal barcode label printer is perfect for a range of applications from wrist banding, order labelling to barcode printing. Offering print speeds up to 6ips (152mm/second) and high resolution 203dpi print quality. The Bixolon SLP-Dx220 provides fast data processing speeds for various types of labels. The SLP-DX220 also offers Autocutter and Peeler options. The Bixolon SLP-DX220's dynamic design with easy paper loading and adjustable paper guide provides the option for various media sizes. Offering the dual interface, with USB & Serial standard and optional USB, Ethernet and WLAN. The Bixolon SLP-DX220 is fully compatible with market-leading programming languages such as SLCS, BPL-Z™ and BPL-E™. BIXOLON Label Artist™ completes the package, this free-of-charge label customisation software, supporting database connection as well as text, drawing lines and boxes, alongside a range of graphics and 1D/2D barcode printing.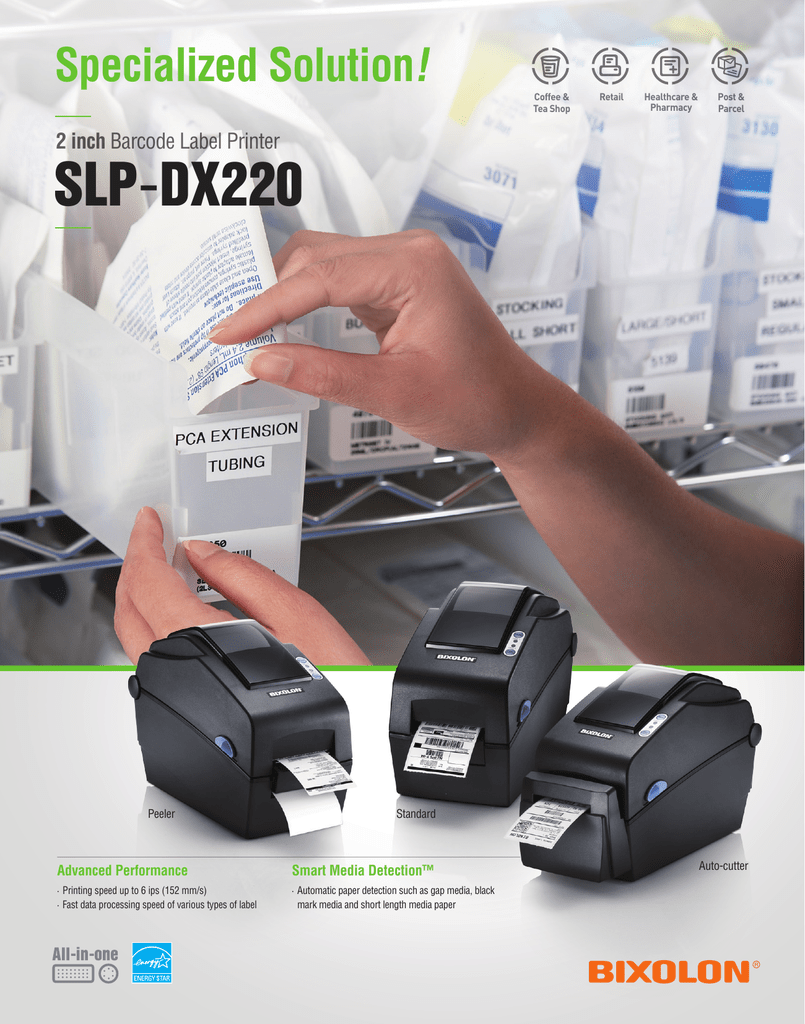 General Features;
Print Method-Direct Thermal
Print Speed- Up to 6 ips (152 mm/sec) SLP-DX223: Up to 4 ips (100 mm/sec)
Print Resolution- 203 dpi SLP-DX223: 300 dpi
Print Width- Up to 54 mm SLP-DX223: Up to 56.9 mm
Print Length- 6 ~ 2000 mm
SensorTransmissive, Reflective (Adjustable), Head Open
Media TypeGap, Black Mark, Notch, Continuous, Fan-Fold
Media Width15 ~ 60 mm
Media Roll diameter up to 130 mm
Media Thickness0.06 ~ 0.20 mm
Supply Method Easy Paper Loading
Buy the Bixolon SLP-DX220 Thermal Desktop Label Printer for same day delivery within Nairobi and next day delivery countrywide.